Cat Vaccinations From Rush Animal Care Clinic P.C.
Cats make wonderful pets. They are very self-sufficient, and they are very affectionate and loving. If you are planning to adopt a cat, you should understand the importance of cat vaccines. Regular vaccines can prevent the incubation and the transmission of very serious and fatal feline diseases. If you don't know much about cat vaccines, read on.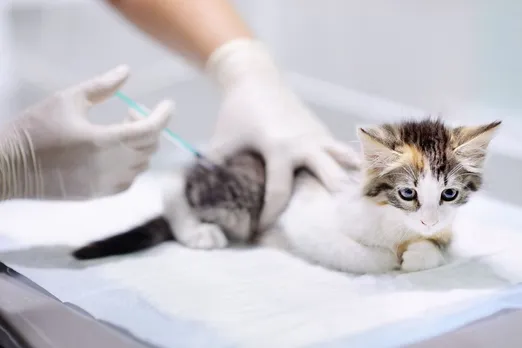 What Cat Vaccines Are Recommended?
The American Association of Feline Practitioners recommends a variety of vaccines for your cat. These include:
Rabies
Feline leukemia
Calicivirus
Bordetella
Rhinotracheitis
Panleukopenia
When Does My Cat Need His Vaccines?
There is a certain schedule that your veterinarian will follow when it comes to vaccinating your cat. When your cat is still a kitten, he will require vaccines from the time he is eight to ten week through 16 weeks old.
8 weeks: FVRCP (Feline Distemper)
12 weeks: FVRCP, FeLV (Feline Leukemia)
16 weeks: FVRCP, FeLV, and the rabies vaccine.
The schedule that your vet sets may differ based on your kitten's health and the schedule availability.
When your cat is no longer a kitten, he will still need to be vaccinated. When you take your cat for his annual checkup, he will need a booster of FVRCP and rabies. Our Feline Distemper vaccine has Feline Leukemia incorporated with it. If your vet sees fit, he may also suggest giving your cat one of the other vaccines recommended by the American Association of Feline Practitioners.
Will My Cat Experience Side Effects From the Vaccines?
Most cats experience no side effects from the vaccines. Most cats who do experience side effects have only minor reactions that last just a day or two. It is rare for a cat to experience more serious side effects; however, there are certain symptoms that you should watch for. These include:
Excessive sneezing
Lethargy
Fever
Vomiting or diarrhea
Redness or swelling around the injection site
Hives
Loss of appetite
If your cat experiences any of the side effects listed above, you should contact your veterinarian.
Are There Any Risks Associated With Cat Vaccines?
As mentioned above, it is possible for your cat to experience side effects; however, the benefits of cat vaccinations outweigh the risk. In most cases, the side effects will be temporary and minor. If you neglect to have your cat vaccinated and he contracts a disease, it could be fatal.
When you first bring your new cat home, you should make an appointment with Rush Animal Care Clinic P.C. Our Johnston vet will give your cat a complete checkup. We will also set up a schedule for your cat vaccinations in Johnston. If you want your cat to live a long and healthy life, vaccinations and regular checkups are necessary.