Our Johnston Veterinarian Discusses the Importance of Dog Vaccinations
One of the only ways to protect your dog from getting a serious and potentially fatal disease is to ensure your pet gets vaccinated. Your dog should have received their first vaccinations as a puppy, but our Johnston veterinarian at Rush Animal Care Clinic P.C. says it is equally important for all dogs to get booster shots as they grow.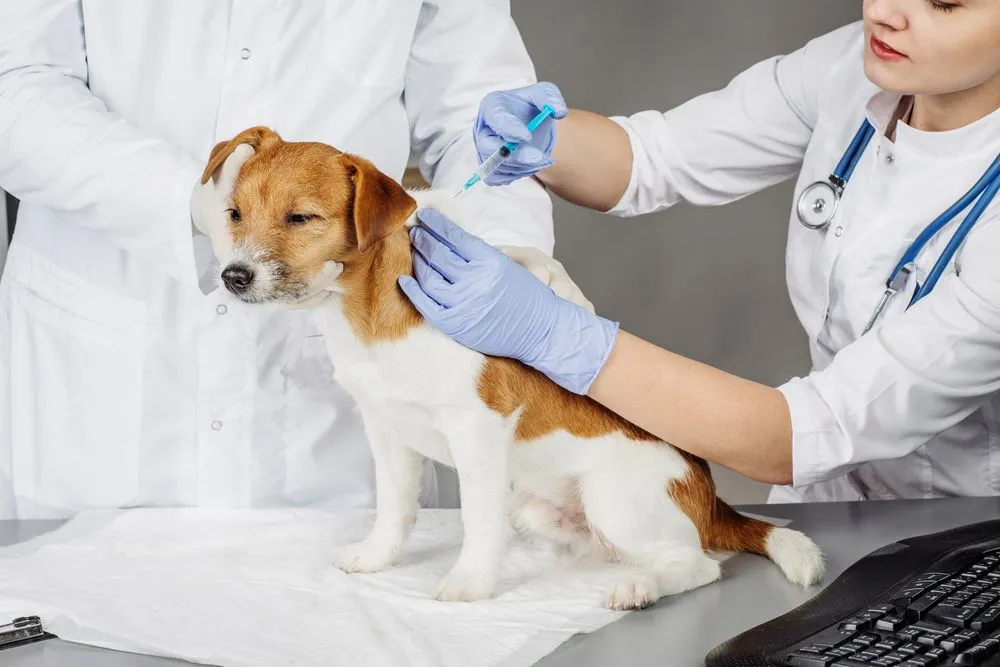 Core Vaccinations for Dogs
If your dog needs to get vaccinated, you'll be glad to know that we provide dog vaccinations in Johnston. Before your dog gets vaccinated, our veterinarian will explain that there are two different kinds of vaccinations-- core and non-core vaccinations.
Our veterinarian offers a full range of core vaccinations for dogs including DAPP, which protects your dog from getting Distemper, Hepatitis, and Parvovirus. Your dog should get its first DAPP vaccination between 6 and 8 weeks old. The DAPP vaccination will be repeated every four weeks until your dog is 16 weeks of age. A booster will be given every year.
Another core vaccination our veterinarian in Johnston offers for dogs is the rabies shot. Rabies is a fatal viral disease that can get passed from dogs to humans. The first rabies vaccination is usually given to puppies between 12 and 20 weeks old. Another rabies shot should be given in 1 year. Most communities require dogs to get a rabies vaccination every one to three years.
Non Core Vaccinations for Dogs
There are some vaccinations that are not required for all dogs. These are called non-core vaccinations. Our Johnston veterinarian can help you determine which vaccinations your dog needs. Some of the most common non-core vaccinations include:
Bordetella bronchiseptica
Parainfluenza virus
Canine influenza virus
Canine Leptospira
Lyme Disease
If your dog is at a higher risk of getting certain diseases, our veterinarian may recommend getting them vaccinated.
Why Dog Vaccinations in Johnston Are Important at Different Stages
Because some vaccinations lose their immunity over time, your dog needs to get vaccinations at different stages. Our veterinarian in Johnston will guide you in choosing the appropriate vaccinations and booster shots depending on age and whether or not your dog is at risk for getting certain diseases.
No matter what kind of vaccination your puppy needs, our Johnston veterinarian can assure you that vaccinations are completely safe.
Contact Our Johnston Veterinarian
When it comes to dog vaccinations in Johnston, don't hesitate to contact our veterinarian at Rush Animal Clinic P.C. Give us a call at (515) 270-2240 to schedule your dog's appointment.